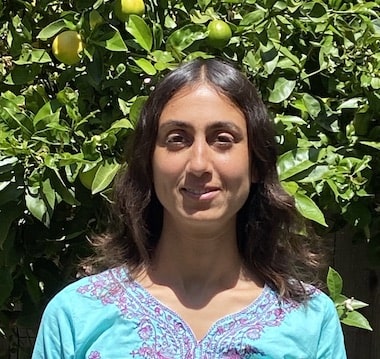 Ameeta offers consultations for a wide range of chronic and acute conditions. Her clinical experience is in classical homeopathy.

Ameeta received her Bachelor of Science summa cum laude in Environmental Economics & Policy from UC Berkeley in 2007, receiving the Departmental Certificate as top graduating senior in the department. She then worked in geophysical fluid dynamics, enjoying scientific research but wanting a profession that would directly contribute to improving the health of individuals and local communities in the Bay Area. After considering a wide variety of career choices in healthcare and alternative health, she decided to study homeopathy. She studied and worked as an intern in the Four Year Professional Training Program at the Institute of Classical Homoeopathy in San Francisco. She also did an internship at Dr. Mihir Parikh's clinic in Vadodara, India.

Ameeta is also available for speaking engagements. For your group, she can present an Introduction to Homeopathy, or give a talk on a related subject of interest to your audience. For further information, please contact Ameeta directly at (510) 277-0189.
"I had a migraine. I tried ibuprofen but it made me feel ill and I still had the migraine. Then, I contacted Ameeta Patel, an alternative healing practitioner. After I took the remedy, my migraine got better and completely went away." -Frances*, age 57
"I am amazed at my experience with homeopathic treatment! A couple of months ago I developed conjunctivitis in both of my eyes. I consulted with Ameeta and she recommended a homeopathic remedy. About the same time my husband also developed conjunctivites, since it is known to be contagious and he consulted Ameeta as well. Interestingly, since his symptoms were different from mine, she recommended a different remedy for him. I was really impressed with Ameeta's attention to detail and her follow-up on our progress. Both of us noted significant improvement fairly quickly and were relieved of the condition in a few days. I have decided to always turn to homeopathy as the first choice for any condition that I may develop in the future." -Elaine*, age 68
"I've been uncontrollably anxious for so long and the homeopathic remedy has eased my mind enough that I can concentrate on getting on with my life rather than worrying ineffectively about it." -Sarah, age 49
"Treatment for back spasm: I have an auto accident related low back and cervical injury of several years ago. I am diligent about "careful" stretching and generally have managed it well with Arnica Oil or Arnica Gel application when necessary. However, every once in a while in an awkward situation of bending, twisting or lifting weight, I get a back spasm that is very acute at first and lasts for almost a week to ten days of tightening the back, shoulder-blade and neck muscles. Muscle relaxers and anti-inflammatory medication would give only temporary relief, unfortunately it also triggered unpleasant side effects. Finally I consulted Ameeta Patel a Homeopathic Practitioner in Berkeley. The first remedy given had an amazing immediate effect. This was followed by another dose for longer lasting relief. The treatment was right on and I did not have to suffer for the normal week to ten days of discomfort. Since then, I have been free of back spasm and have gained more confidence to strengthen my back and core muscles without being afraid of reinjuring." -Mike*, age 69
*indicates name has been changed